FAQBT Business Growth Membership in 120 words or less ...
Why?
To grow your business by filling in knowledge gaps so you can DIY or outsource with confidence.
What?
Affordable online business training membership, 24/7 accessible, new content every month, access to pre-existing content (25 courses before Christmas) ...
How?
Short online courses with practical guidance to help you learn, test and implement. If you have questions, we have a monthly live Q&A and on course questions anytime.
Who?
Delivered by FAQ Business Training, primarily lead trainer Jane Tweedy.
For medium and small business owners who are doing the right thing, done the hard yards by bootstrapping (self-funding), and want to learn to do it right. You want to grow your business and make it a success on your terms.
Why you need the FAQBT Business Growth Membership and what's included
This video is a quick rundown of what's in the membership and the reason why we offer it at all.
Are you ready to grow your medium or small business?
The FAQBT Business Growth Membership is for business owners who've largely bootstrapped their businesses and are ready to level up. We give you highly practical and actionable content to help grow your business.
With backfilled content when you arrive, to new content being added monthly. You're sure to find content of use to you!
FAQ Business Training is here to help businesses who are doing the right thing to do it right! We value transparency, authenticity, keeping it real, and giving our clients a hand up and not a handout. Find out about FAQ Business Training.
The Founding Member special
25% off your monthly fees while you remain a paid-up member saving you AU$147 over the course of the year.
And even better the membership is actually LESS than or equal to the cost of a single 'proper' course in the membership! You get access to the courses released in the membership when you need them, and all the extras for nothing!
If your circumstances change you can leave at the end of your current month at any time. There is no lock-in period.
FAQ Business Training client testimonials
Hear from two of our small business clients and how they've found their training with FAQ Business Training.
About FAQBT Business Growth Membership for those who like lots of detail



;-)
This video is for those who like to know everything before they buy. We go into a lot of detail about what's in the membership, why it is there and how it can benefit you! If you prefer the quick version, please check out the video above instead.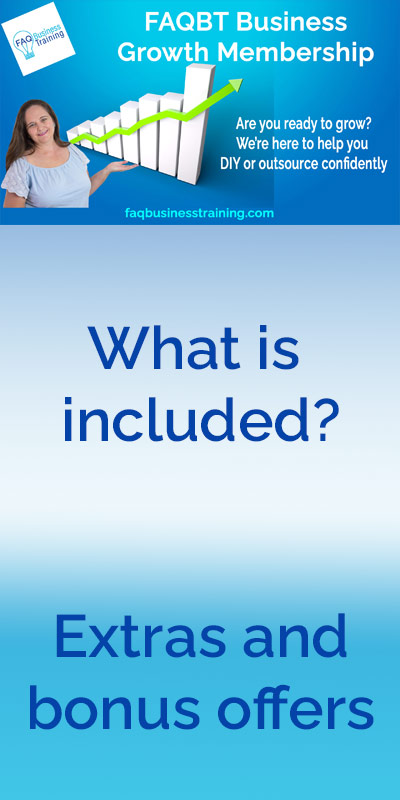 What is included in the FAQBT Business Growth Membership?
We want to give our members great value for money!! So we truly believe we've created what is a no brainer package! AND... we will be adding in some surprise bonuses at times. But sshh we can't give away everything!
Every month while a paid up member:
one new 1-3hr course added including videos, action items, slide pack and handouts - valued at AU$37
two new Tea Time Tips mini trainings including single video, transcript, slide pack and handouts if relevant - valued at AU$10
one live Q&A session to start - valued at $27 but priceless as members only!
one live online networking event to start - valued at AU$10
member only Facebook group - priceless
One off:
access to additional courses uploaded before December 24th 2021 (these are being backfilled currently!) valued at AU$350 minimum
for those in NSW with Business Connect hours available a coaching/advice session, for everyone else a 15 minute discovery call to help shape the membership courses and sessions
FAQBT Business Growth Membership Bonus Offers
These are only available to members joining now. We reserve the right to revoke these offers at any time.
Bonus Offer 1 Valued at AU$75
On completion of a questionnaire some basic keyword research for your business. Please allow 2 weeks for this to be emailed to you.
Bonus Offer 2 Valued at AU$50
A directory listing for one year in our sister business Business Action Networking. This offer will be available from 3 January 2022 if not sooner (we're ironing out some kinks!).
Bonus Offer 3 - Priceless!
Priority access to be on our FAQ Business Podcast if you meet the eligibility criteria and align with our values. These spots are limited!
If you miss out on that you will be given a chance to guest blog on one of our websites, Business Action Networking.
Progression not perfection ...
We are all about transparency and telling it like it is, and unfortunately due to illness and some tech issues, we are nearly a week behind in the school build. We'd rather you know now. Therefore we don't have the backfilled number of courses we hoped for and have not fully completed the onboarding process.
Please do not less this deter you from joining! you won't get this price again!
We have a 'course' about How to use the membership and we will update this over the coming days until fully complete. We will also email you so keep an eye out!
Backfilled content including 4 'proper' courses will be up before Christmas 2021 (and sorry to say, that's not far away!).
There are still a number of courses to get you started, and of course the suggested to do items from them!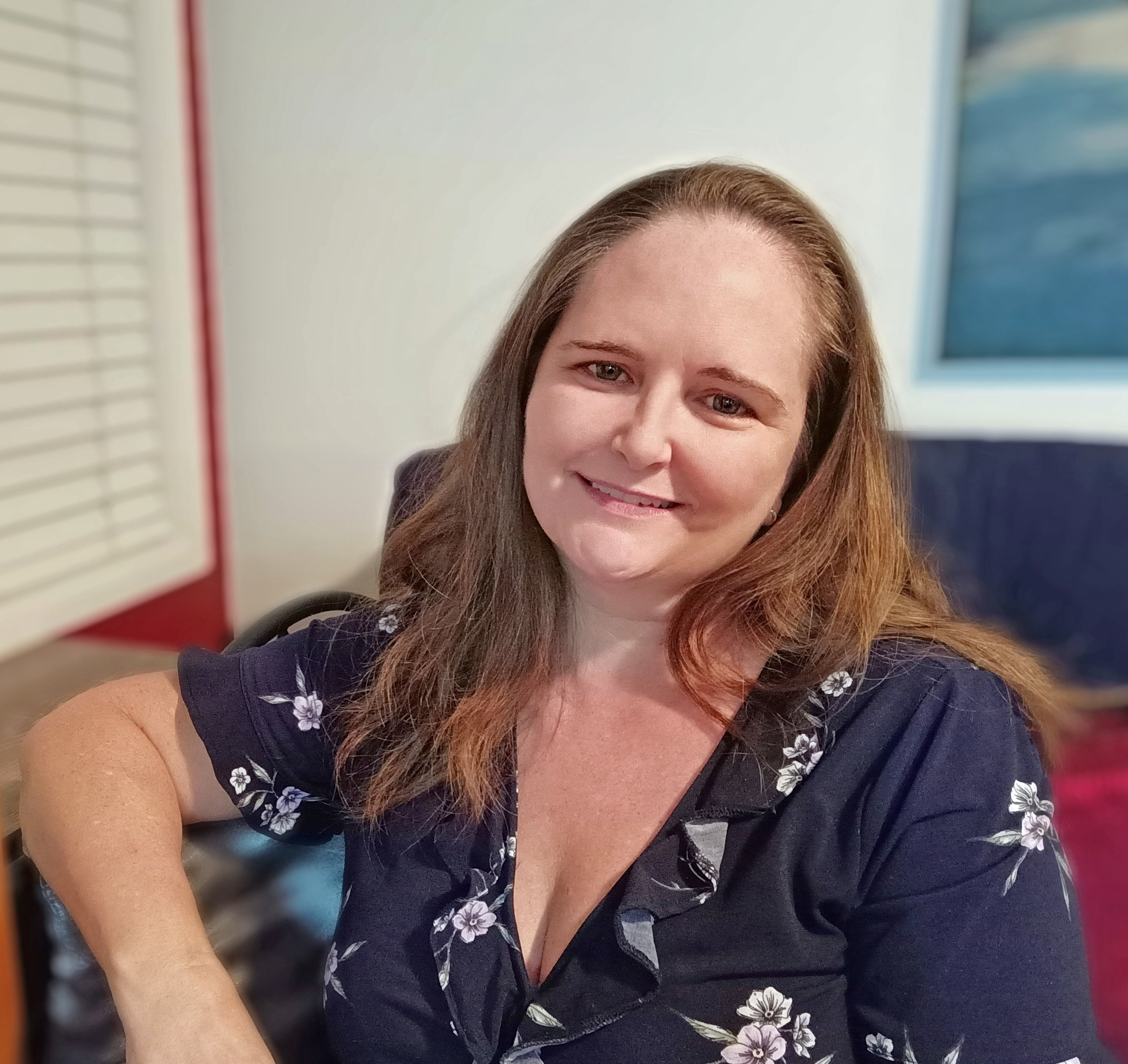 Hi, I'm Jane - founder and lead trainer of FAQ Business Training
You will see me a lot if you join the membership, especially in the early days! I have so much great content to share (don't believe me check out the testimonials) to make your life easier, and grow your business to the next level!
I'm a Professional Certified Coach with ICF and hold many qualifications up to Masters levels. Plus a lot of real world experience from corporate, volunteer work, small business and helping 1500+ business owners one-on-one in their businesses!
I'm a lifelong learner, love teaching and have a way of breaking down even complex material so you get it!
FAQBT Business Growth Membership Courses
Please note the online school and the FAQBT Business Growth Membership are currently being backfilled. Before the Christmas break (2021!) there will be at least 18 Tea Time Tips, 8 Prerecorded Webinars (PW Series), 4 courses, and the first Q&A session. A chunk of these will be up before 1 December 2021 giving you plenty of time to test our offering. Please note you do not pay for the courses on top of the membership, these are the prices if purchased standalone.
Coming soon: A course catalogue will be regularly updated to help you find what you're looking for, and suggest pathways if you'r not sure where to start!
Frequently Asked Questions (FAQ) and concerns
Is there something stopping you from grabbing the membership? We may have addressed your concern below, or feel free to contact us at training @ faqbusiness.com.au (remove spaces put in for spam protection).
Can I get a refund if I'm unhappy with my purchase?
If you are unsatisfied with your bundle, reach out to us to see if we can address your concern or advise if your purchase is eligible for a refund.
We offer a 14 day money back guarantee. We're a small business - please don't take advantage of this! If you join and cancel we probably won't be welcoming you back to do the same thing again.
You can cancel your membership at any time, but if you rejoin it will be at the then current prices.
What type of courses will be included?
Courses related to anything business. You can look at the past events tab on the main FAQ Business Training website to get a feel for the type of courses we have completed in the past. You could also check out our blogs which include our recent addition the FAQ Business Podcast.
This list though extensive is not actually complete. Plus we have many more courses in the pipeline.
What level are the courses at?
Courses will be pitched where possible at all bootstrapping business owners. In other words people who self-funded their small business dream.
If you've accessed multi-million dollar funding and accessed copious high level advisors, we're probably not right for you. For everyone one else small to medium sized we can assist.
Some courses we may offer advanced options and others we may offer an additional course in a given month, to address different levels/stages of business, or if the topic is too niche.
I have no interest in the course being released this month, why should I stay a member?
By Christmas 2021 we will have back filled 20 courses of varying types and topics plus the December releases. This means if you don't like the new release you can still learn by selecting an oldie but goodie.
In the future, as we're adding content EVERY month there will be a lot more content in the school and the membership.
In addition we have the other features like the networking session, the live Q&A and two mini courses (Tea Time Tips), plus what we have happening in the Facebook group. There will be plenty of value for you!
How do I schedule my appointment for my discovery call?
Upon purchasing the membership, you'll receive further instructions on how to book a time for your discovery call or coaching session (if in NSW and have hours available).
Why do you not give lifetime access to courses?
We do in the way you see other people offer them. We're honest and let's be real - lifetime access is never lifetime unless you die tragically young in the prime of your life! And we do not want that!
We have no intention of shutting down our membership, but if the Covid Pandemic taught us anything, it's that we live in an uncertain world! Therefore we can't say never.
We would give you ample notice before closing down the membership or any courses. Remember some may simply become obsolete as technology changes.
I don't know if I have the time
One of our first sessions will be how to conjure up an extra 2 hours a week (minimum).
You do not need to 'keep up'. The membership is available to you at any time you're a paid-up member.
Live Q&A sessions will be recorded and placed in the membership too so you won't miss anything. Take the courses as you need them and as they are relevant to your business.
I'm not sure I can afford it
If you really can't, please don't join! However the nature of the sessions offered should mean if you implement them, you're either saving money or making more money. Therefore joining should be thought of as an investment in you and your business, not a cost.
Is this right for me?
Only you can assess that. Read this sales page and find out all you can. We cater for all learning styles – you can listen, watch, read and do.
You may want to tune into our podcast is studying right for you? Although not a qualification, a membership can have the same considerations. Where are you at in your business? What help do you need? You can check out our podcast on is studying right for you if you need help in what to consider before signing up to ANY study or membership.
You can also check out one of our Tea Time Tip Videos for free. In the membership you also gain the slide pack, and any available handout, which is not available for free viewers.
Are all courses included in the membership?
No. Certain premium courses, implementable training sessions with live components, packaged programs and HBDI® related courses and debriefs will not be available in the membership. Sometimes our membership will be offered a discount. This is not always the case as we are not always the only provider.
All courses included in the membership have a little banner image above the pricing plan options to remind you it's included (if it is).
Apart from the initial courses, at a minimum every month there will be a new course added, 2 new Tea Time Tips (15-30 minute sessions) and a live Q&A session recorded. You will also have access to an online networking session (which will not be recorded, other than possibly the education or inspiration component).
Will I be upsold (spruiked) all the time?
No, it goes against everything we believe in. Does this mean we won't mention other courses and programs including paid offers? No. We will mention relevant training and may upsell. However our training will also be dominated by training and not spruiking!
Who is this Jane Tweedy and what does she know?
Jane been a government funded business advisor for 6 years and worked with over 1500 people one on one as well as thousands more through workshops, conferences and networking groups. All these people have given so much insight into what to do and what not to do in business. Those who take action and grow their businesses are fantastic because they're live testing what Jane teaches.
Jane also apply the learnings in, and learns from her own businesses, which she's had on the side for over 20 years before becoming her main gig.
Even in her corporate roles Jane was doing things like applying customer service skills, leadership, analytics and investment, financial analysis, solution selling and so much more …
How does this differ from other similar programs?
Honestly there could be a lot of overlap! What is going to be 100% unique to FAQ Business Training is of course our Founder and Lead Trainer Jane Tweedy. Jane tells it like it is (a combo of her Kiwi background and thinking preferences) and LOVES helping people succeed and not get ripped off. Watch some of our Tea Time Tips series to get a feel for Jane and her learning style. We are ensuring there's a LOT of value in this membership.
What are the Tea Time Tips Series?
These were sessions initially recorded live from streams to Facebook and LinkedIn. They're like mini lunch 'n' learns so are shorter than our normal courses. You can access the blog and video for free via out Tea Time Tips page on our main website.
The paid version (included free in your FAQBT Business Growth Membership) includes the video plus the transcription available as a PDF, the slide pack PDF and any handout if included. Resources referred to (like blogs) will also be easier to access.
What are the PW Series?
These were recorded live and are therefore Pre-recorded Webinars or PW. We know people who put these up on their website as a 'Masterclass' with an inflated price tag, but we believe this is an inferior product. You don't get the benefit of being there live, engaging and asking questions, and it's not a cleanly recorded structured course with workbooks or worksheets and actions to take. However there's still some great things to learn in these sessions!
Your question not addressed?
Please feel free to email us on training @ faqbusiness.com.au (remove the spaces).
Check your inbox to confirm your subscription